Looking for a Washing Machine Repair Manual?
HAS YOUR WASHER QUIT? ARE THE DIRTY CLOTHES PILING UP?
IS YOUR LAUNDRY DRIPPING WET AT THE END OF A CYCLE?
IS YOUR LAUNDRY ROOM NOW A LAKE?
No need to call an expensive serviceman, and then wait a couple of hours (or DAYS) for him to show up! Diagnose your problem RIGHT NOW, cheaply and easily, with our
FREE ONLINE

washer repair manual!
IS YOUR WASHER:
Not spinning?
Not draining?
Not agitating, or agitating weakly?
Not filling, or filling too slowly?
Not doing anything?
Leaking water or oil?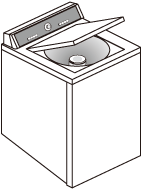 Overflowing?
Leaving your clothes too wet at the end of the cycle?
Vibrating uncontrollably?
Spinning and agitating at the same time?
Screeching, squeaking, clattering, knocking, buzzing, or making grinding or other strange noises?
Do you smell smoke when your washer is running?
Your Maytag washer is leaking; what things do you check first? How about if your leaking washer is a Whirlpool or GE?
It's a different set of likely problems. The same things tend to fail in the same designs.
Why not save yourself a lot of time, hassle and money, and just go there first?
Diagnosis and repair procedures are included for the most common symptoms, such as leaks, no fill or slow fill, clothes too wet after cycle ends, no agitate, no spin, no drain, timer, drive motor and other electrical troubles.
The washer manual covers all common brands sold in the US and Canada: Whirlpool / Kenmore / Inglis, GE, Maytag, Hotpoint, JC Penney, Amana, Norge, Speed Queen, Westinghouse, Kelvinator, Frigidaire, Gibson, Montgomery Ward, Signature and many others.
Just as importantly, there are a few (VERY few) pretty poor designs, and specific problems out there that really are not worth fixing. If you have one, the manual tells you so. Remember, we are trying to save you time, money and hassle! There is no sense in trying to make a hopelessly complex repair requiring expensive special tools, or beating your head against a wall looking for parts that don't exist anymore. In such cases, the manual will advise you to call a technician or get rid of the machine. However, such problems amount to far less than one percent of all repairs that our customers report to us.
Note: This manual does not cover front-loading washers; only top-loaders.
Please share our .