Looking for a Refrigerator Repair Manual?
IS YOUR ICE CREAM MELTING? IS YOUR MILK TURNING SOUR?
IS WATER DRIPPING FROM THE ROOF OF YOUR FRIDGE?
IS WATER DRIPPING ONTO THE FLOOR OF YOUR KITCHEN?
IS YOUR REFRIGERATOR "SINGING" TO YOU?
No need to call an expensive refrigerator repairman, and then wait a couple of hours (or DAYS) for him to show up! Diagnose your problem RIGHT NOW, cheaply and easily, with our
FREE ONLINE

refrigerator repair manual!
IS YOUR REFRIGERATOR:
Not cold at all?
Frozen in the freezer side, and warming up in the fridge side?
Frosting up?
Pooling water or ice on the floor?
Whistling, warbling, chirping, clicking, buzzing or making other funny noises?
Not as cold as usual?
Did your icemaker stop working?
Most refrigerator repairs can be accomplished in one afternoon, with no special tools or knowledge other than this service manual. The same things tend to fail in the same designs. Why not save yourself a lot of time, hassle and money, and just go there first?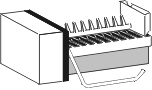 Over 95% of all refrigerator repairs have nothing to do with Freon!
A common misconception is that refrigerator repairs always have something to do with the sealed system (Freon.) This is just simply not true! We tell you how to diagnose sealed system troubles, but we recommend you call a professional for these problems. And even if it does turn out that you have a sealed system problem, at least you can save yourself a diagnosis charge, and make an informed decision as to whether or not to have the fridge repaired!
Tired of reading complex thermodynamic theory in a refrigerator manual? Don't you really just want to know basically how the bloomin' thing works, and then get on with fixing it? Our refrigerator repair manual cuts out all the unnecessary theory and sealed system repairs that the novice will never perform. Instead, we focus on diagnosis and repair procedures for the most common symptoms, such as no cooling, ice or water buildup, noisy operation, electrical troubles, etc.
Please share our .